Participate in our important work!
Help Kids Brain Health Network by participating in our research projects, and be a part of improving life for children with neurodisabilities and their families. Attend a KBHN conference, and connect with a wide range of researchers, heath care practitioners and other stakeholders. Join us on social media, and stay informed about new research on neurodisabilities and what KBHN is doing to improve life for children and families in communities across Canada.
Become a Research Participant!
Help Kids Brain Health Network by participating in our research projects, and be a part of improving life for children with neurodisabilties and their families. KBHN funds critical research into the causes of and treatments for neurodisabilities in children, and aims to provide effective programs of support for their families and their communities. Some of these research projects require a range of participants, including people just like you. If we are actively looking for participants in a new upcoming research project, we will post a notice here. So watch this spot!
Our Sister Network, CHILD-BRIGHT is recruiting families familiar with patient-oriented research to help create a website.
Would you like to support patient-oriented research?
Share your research involvement story with us, and receive a $50 gift card!
"Patient-oriented research" means that parents, patients, researchers and health professionals work together to choose research topics, plan studies, share knowledge, and make changes in order to improve healthcare for children and youth.
Who is doing this study?
A group of researchers at BC Children's Hospital and Sunny Hill Health Centre for Children, led by Dr. Shazhan Amed, are co-creating an interactive website with families, to make it easier for families to engage in research. We are seeking families to share their experiences with research involvement to help our team build the website.
Who can participate?
If your family participated in a health related study (especially as a research team member/partner) and you are willing to share your story to help other families understand research, you are a perfect fit!
How to participate?
Please contact the research coordinator at childsizedkt@bcchr.ca or 604-875-2000 ext. 3113 for more information.
Thank you and we are looking forward to hearing from you soon!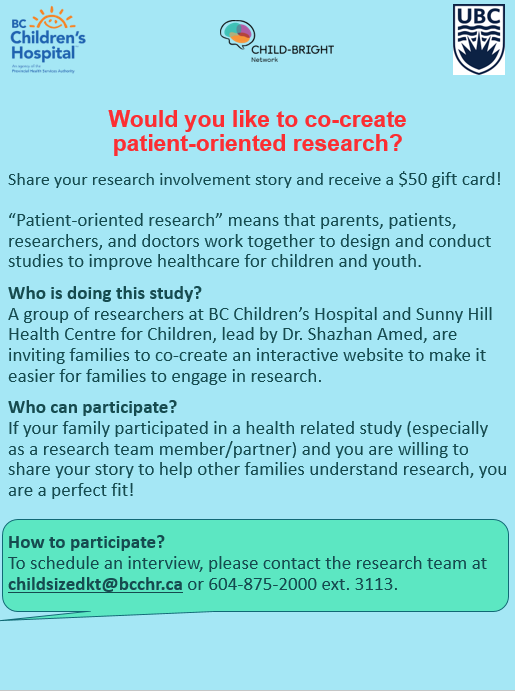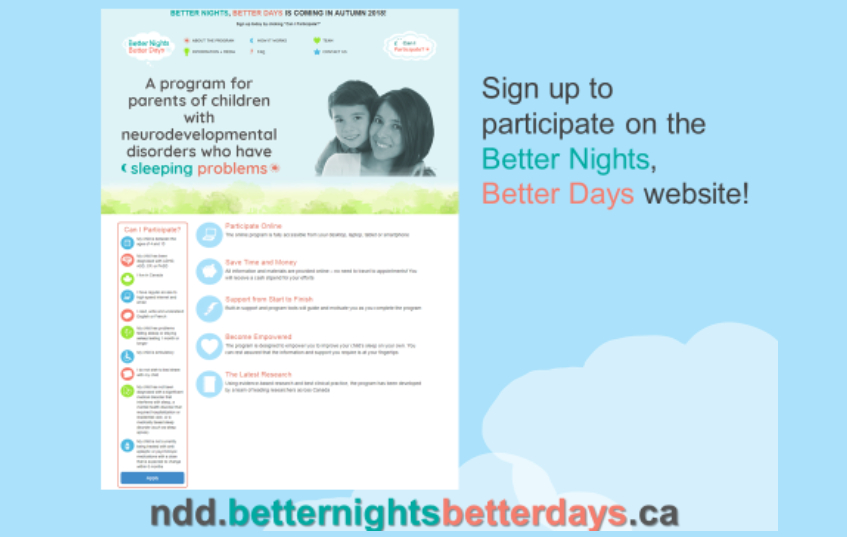 We're Recruiting for a Sleep Study!
The Better Nights, Better Days NDD project is seeking participants for a randomized controlled trial of an evidence-based treatment approach with a strong track record in children without disabilities.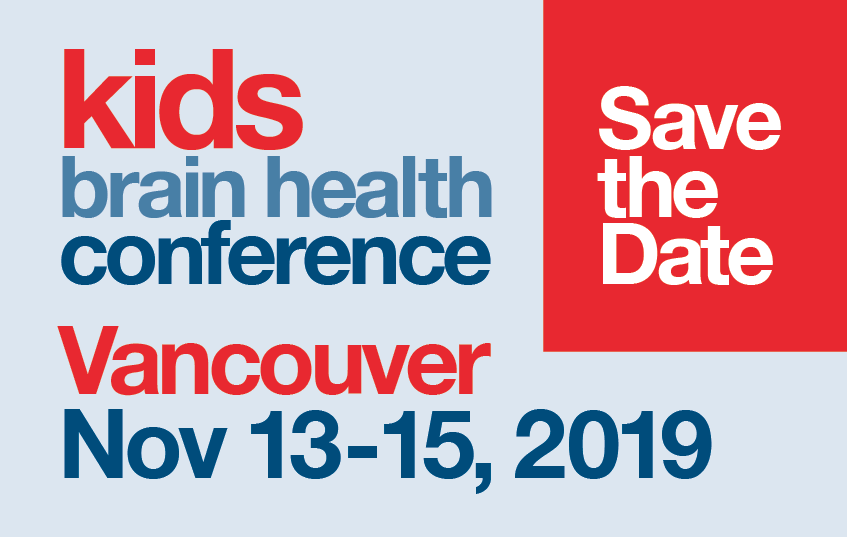 Attend a KBHN Conference
Kids Brain Health Network has a strong track record in producing fascinating and engaging interdisciplinary annual conferences that examine the lived experience of neurodisability as well as cutting edge research.