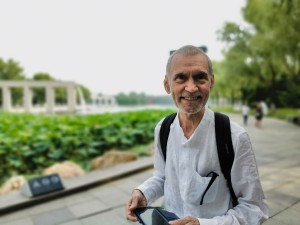 Dr. Collet has been a KBHN researcher since 2015. We reached out to ask him some questions about his work to support children with neurodevelopmental disabilities and their families.
Can you describe your educational path and what inspired you to get into the work you do now?
After I specialized in pediatrics in Lyon, France (1986) I went to Montreal to learn Social Pediatrics at McGill with Dr Charles Larson. Here, I also learnt epidemiology with a PhD obtained in 1992.
The work I am doing in British Columbia to help children with neurodevelopmental disabilities corresponds to the use of my expertise with the deep desire to pay special attention to the ones that are the most neglected in our society, and offer them specific care.
Having neurodevelopmental disability for a child has huge consequences not only for the child but also for the parents, siblings, the school and more broadly the society.
Whatever we can do to support children with neurodevelopmental disability to gain social experience and learn functional skills will have significant consequences for everyone involved at all levels. Conversely, strengthening parents to gain resilience, self-confidence and self-efficacy feelings will have a positive impact on the child with developmental challenges.
What projects are you currently working on?
We have presently three projects on-going to disseminate the new coaching approach that best support children with neurodevelopmental disability and their families:
A knowledge translation project within SOBC sites. This project funded by KBHN will be ending in one year.
A knowledge translation project of the new coaching approach among children living in Indigenous communities and/or remote regions of British Columbia. This project is funded by the Ministry of Health of BC and supported by the Indigenous Sport Physical Activity and Recreation Counsel (ISPARC), and the Ministry of Children and Family Development (MCFD).
A third project, funded for three years by the Michael Smith Foundation of Health Research (MSFHR) will start this Fall. The aim is to conduct research on the best way to implement community-based physical activity projects in remote regions and/or different culture.
Finally, we are working with KBHN to develop the proposal for the 3rd cycle of Networks of Centers of Excellence (NCE). The goal of this project for our team is to disseminate the new coaching approach nationally. Our main partner is Special Olympics Canada.
To you, what's the biggest issue we need to address when it comes to neurodevelopmental disability research?
Isolation and social exclusion are the biggest issues we need to address for children with neurodevelopmental disability.
Neurodevelopmental disability may be observed among children with different conditions such as Autism spectrum disorder (ASD), Down syndrome, Cerebral palsy, Attention & hyperactivity disorder (ADHD) or Fetal-alcohol syndrome disorder (FASD) for instance, with many other conditions remaining not diagnosed with the label of "delayed development".
Whatever the original condition, these children all suffer from the challenge to be excluded from most social activities. This isolation is source of another level of learning barriers, by excluding these children from peer learning. Isolation may further lead to loneliness with depression, that is source of many chronic conditions that will affect the whole life.
Research that promotes an integrative society is of paramount importance for children with neurodevelopmental disability.
What research accomplishment are you most proud of in your career so far?
With our partners Special Olympics of British Columbia (SOBC), the Empowering Step Movement Therapy (ESMT) and other sites in BC we have documented the effects of attending physical activity programs on children with neurodevelopmental disability. We showed that this effect goes beyond motor functions as it also improves executing functions and social learning as well. Further, we also showed that child improvement had a positive effect on parents and family – and reciprocally, strengthening families was another good way to support child development.
All these results let us developing a new coaching model for children with neurodevelopmental disability that is more personal with frequent evaluation; the new coaching approach also involves parents to practice physical activity at home with their child and finally provides support for the parents to develop social networks, as a way to reinforce each family.
This new coaching model is now disseminating nationally and internationally.