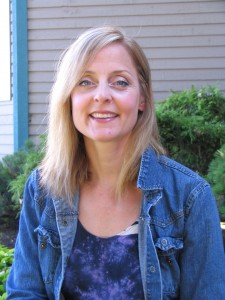 Dr. Macoun has been a KBHN researcher since 2015. We reached out to ask her some questions about her work to support children with neurodevelopmental disabilities and their families.
Can you describe your educational path and what inspired you to get into the work you do now?
My path to academia is a somewhat unusual one. I was educated in the field of Clinical Neuropsychology with an emphasis on pediatrics.  My early research was focused on neural function and motor systems in Attention Deficit Hyperactivity Disorder and executive function (EF) development across childhood.  I received specialized training in genetic/metabolic disorders, in addition to more generalized training in neuropsychological assessment and treatment for children and youth with neurodevelopmental disorders and neuromedical conditions.
Upon graduating and becoming a Registered Psychologist, I worked in a community-based private practice and subsequently worked as a neuropsychologist within the School Districts for over 12 years. I was invited to a position within School Districts at the time when the Standards and Guidelines for Assessment of Autism Spectrum Disorder in BC were just coming into effect. My work in the school districts was unique, as it is unusual for a neuropsychologist to work within this type of setting – I was focused on complex neurodevelopmental assessments including children with rare (Low Incidence) diagnoses. This work included diagnostics and treatment for complex neurodevelopmental disorders, Autism diagnostics, policy/program planning for children with complex needs, and supervision/training of junior psychologists.  My work consistently involved collaboration with multidisciplinary and medical teams and spanned multiple School Districts and health care settings.
After 10 years within the schools, I was approached by the University of Victoria to apply for a position in Educational Psychology as this Department was considering starting a School Psychology program.  This program did not come to fruition and I subsequently transferred to the Clinical Psychology Department, where I am currently faculty within the Clinical Neuropsychology Stream (Pediatrics). I maintain strong connections with the school districts (local and afar) and health authorities, and continue to do regular community-based research and clinical work.
What research projects are you currently working on? 
I am currently working on the Dino Island Research Program, which is supported by KBHN. This program focuses on cognitive rehabilitation in children and youth with neurodevelopmental disabilities, including ASD, FASD, ADHD, and LD. We have developed a tool – the Dino Island video game – that is affordable, accessible, and feasible for delivery within community settings while allowing children to improve their attention, working memory, and executive function.
Given the importance of early intervention, we also have completed pilot work in typically developing preschoolers to assess efficacy and suitability of Dino Island for a younger age group. I am a member of the Panacea Gaming Project. The PGP is the first Canadian International Eureka Funded initiative focused on ethical development, validation, and use of health care technologies, including serious games, and has a core group of 5 partners that span 3 continents (North America, Asia, Europe) and 5 countries.
I am also working on research projects focused on motor function in children with ADHD and FASD assessment in adult women.
To you, what's the biggest issue we need to address when it comes to neurodevelopmental disability research?
I believe the biggest issue to address clinically is early identification and intervention, to maximize outcomes for children with NDDs and their families. Along these lines, a big research challenge for me is accessing and supporting individuals within remote communities, who often have less access to early identification and intervention opportunities. We are focused on research that intends to make an impact for all families contending with NDD's. Scarce research and heath care dollars need to be put towards research that effects change and that directly and positively impacts the populations we are studying. To this end, it is crucial that research questions are driven by community need and goals, and that our research involves ongoing community collaboration.
What research accomplishments are you most proud of in your career so far?
I am most proud of my rehabilitation research, where I have been able to actively engage with communities and effect positive change for children and their families. I am proud of the collaborations that this research has generated (both within academia and community contexts).  I have formed and maintained outstanding collaborative research partnerships both locally and internationally, which I believe will permit my research to be informed and driven by community needs and will allow my research to make a broad and lasting impact.